Born And Raised In The Garden State
Welcome to my web site! Many hours of work have been put into the research and documentation of these ancestors.
My interest in genealogy began shortly after my retirement from the U.S. Air Force. I knew very little about my grandparents and grandparents and wondered how I fit into the family picture. I began asking questions of m father, aunts and uncles and was amazed at what little they really knew about these individuals. So armed with a few tidbits of information and a personal quest to find my roots, I began my research efforts.
When I initially began my research, I thought that the Sutton name was so uncommon in New Jersey that my research would be "relatively" simple. This notion was based on the fact that I rarely heard of the name except within the family context. Was I wrong!! The name may not have been as common in the Bayonne area in the 1940s and 1950s but just step back 100-150 years and visit Hunterdon, Somerset, or Morris Counties and the name might as well have been "Jones". I was stunned by the number of Sutton families I began to find and knew that my research was not going to be a "cake walk".
The following pages are a compilation of my research conducted of the past thirty years. They represent many hours and days spent in front of a microfilm reader and computer at both the NJ State Archives in Trenton and at home. They were created to allow those with a common interest to share in the results of my research and to seek the aid of others in helping to answer questions and fill hole in my particular family lineage. My goal when I began this research was to develop my family lines and validate all events and facts. While I have made every effort to meet these goals, I found that often the supporting records did not exist or if they did, they alludes my search. Much of the information presented is substantiated with source data. However, there is also much of the information for which I have no source information. This material has been extracted from various books and papers as well as received from individual with no supporting evidence.
My research began with the goal of putting together my family which has remaind in NJ since around 1666. However, this research has grown to show the expension of the Sutton from NJ to points West.
I dedicate these pages to my wife, Marie, who has tolerated my absence while away doing research or at the computer at home doing research or data entry. I also dedicate these to my children, Timothy, Shawn, Erin and Kevin, who with my wife, have had listen to my insistent chatter regarding my research and family history.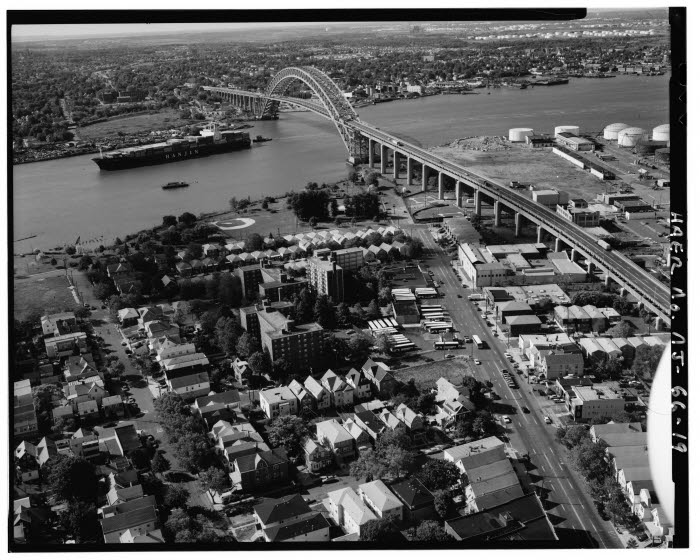 Aerial view of the Bayonne Bridge, which spans Bayonne, NJ and Staten Island, NY. Also in view is my home on Trask Ave. where I grew up.
---
Table of Contents
Pedigree Chart for Dennis Paul Sutton
Surname List
Index of Names
Sources (Bibliography)

---
Hunterdon County Democrat
Newspaper Extracts
This below link will take the reader to my extracts from the Hunterdon County Democrat, one of the principle newpapers of Hunterdon County, New Jersey. The extracts are from the 1837-1888 copies of the paper. I have plans to complete an extract from this paper through 1899.
While these extracts in no way reflect all possible genealogical information available, they do reflect a concerted effort to extract all marriage and death information. Efforts to expand this information will be made following completion of my initial efforts to extract through 1899. It should be also be noted that while the Democrat contains information primarily related to the Hunterdon County area, there is also much information regarding people from other parts of the State as well as from across the United States.
---
Contact Information
Send E-mail to njsutton@njsuttonfamily.org
Send mail to:
Dennis Sutton
2949 Eagles Nest Way
Port St. Lucie, FL 34952